Party Bus Rental Five Points MI
Are you looking for a party bus rental Five Points MI?
It's natural to want the best for those you love, and when it comes to transportation, your feelings should be no different. That's why, at Rochester Limousine, we offer only the newest and hottest fleet of party bus rentals in all of Metro Detroit. With comfortable seating for up to 45 people, fabulous onboard amenities, total reliability, and comprehensive support, our party bus rentals ensure that you never have to worry about a thing throughout the entire duration of your adventure with us. In fact, our party bus rentals, here at Rochester Limousine, were even voted number one for undeniable excellence two years in a row! Whether you are planning a massive event and need exceptional transportation, or you are simply looking to live it up lavishly in your own personal mobile lounge for a night, we're confident that you just won't find better party bus rentals than ours at Rochester Limousine. So reach out and reserve your party bus rental with us today!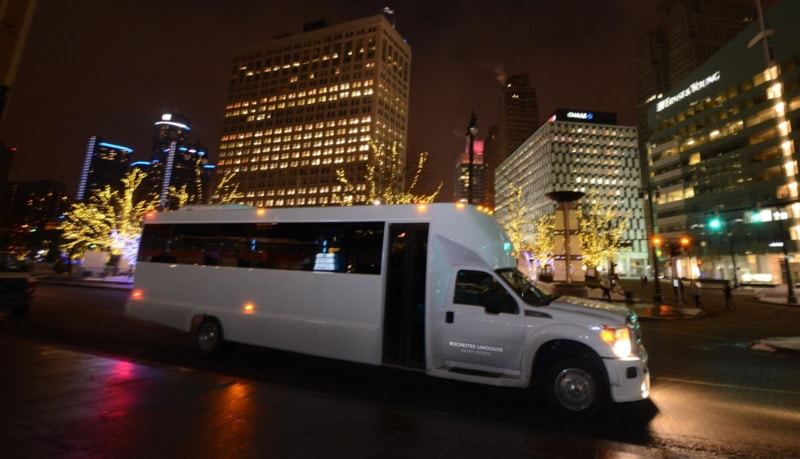 Party Bus Rental Five Points MI
With more than 20 years of experience, Rochester Limousine is excited to help you enjoy "A Night To Remember" by offering you access to the most luxuriously affordable party bus rentals in Five Points, MI. In Oakland County, between Lake Oahu and Crotched Lake in Holly Township, the small town of Five Points is the perfect place for those who love nature. To the west, residents of Five Points can explore Seven Lakes State Park or experience a hot air balloon ride at Balloon Quest on the southern tip of the park. To the east, Five Points offers access to the famed Holly Recreational Area as well as Groveland Oaks County Park and the Michigan Renaissance Festival. In fact, no matter where you turn, Five Points is surrounded by greatness in terms of recreation. Now, when it comes to food, residents of Five Points can easily head down the road to Holly, or even slightly further west to Fenton for a great selection of eateries suited for any craving. Of course, if you plan on leaving Five Points for any reason, you should consider all your options for transportation. A regular everyday vehicle might cut it if you're going to the bank or heading to grab some fast food, but if you're on the prowl for adventure you need the tools for success – which means reserving one of our incredible party bus rentals from Rochester Limousine! If you're a resident of Five Points, don't wait any longer book your party bus rental with us. After all, we're confident that your guests will appreciate your commitment to excellence.
If you are in the Five Points area and are looking for a party bus rental Five Points MI, please contact us today by calling 248.289.6665 or by filling out the form below: