Party Bus Rental Ferndale MI
Are you looking for a party bus rental Ferndale MI?
Are you planning a birthday or special event for someone you care about, but you really want to wow them? At Rochester Limousine, our selection of party bus rentals are just the thing you need to go above and beyond for those you love by impressing them with top-of-the-line luxury transportation that will ensure an unforgettable evening. Give your loved one the gift of a great time, free from worry thanks to our party bus rentals' exceptional safety and comfort. From flat screen TV's and sound systems to festive lighting and fully stocked bars, Rochester Limousine guarantees you and up to 44 of your closest friends (for a total of 45 people) the chance to have the best night of your life with party bus rentals that are more stylish and extravagant than you could ever imagine. If you are hoping to give someone special in your life the chance to let loose and enjoy one night of pure luxurious party bliss, then you need to get your party bus rental from the only place ranked number one multiple times in a row. Rochester Limousine has all your party bus rental needs and more. What's stopping you from getting yours?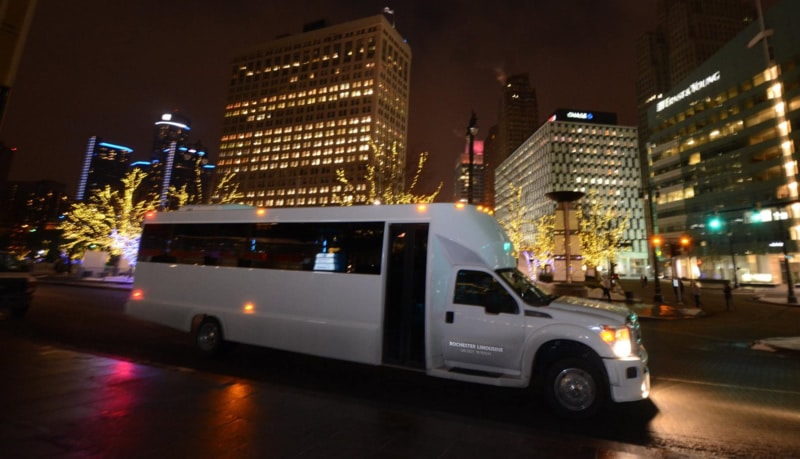 Party Bus Rental Ferndale MI
With more than 20 years of experience, Rochester Limousine is excited to help you enjoy "A Night To Remember" by offering you access to the most luxuriously affordable party bus rentals in Ferndale, MI. The Detroit metropolitan area holds a number of remarkable neighborhoods, including Ferndale in Oakland County. Serving more then 19,000 residents daily, the community of Ferndale is know for more than just its incredibly diverse collective of people and progressive ideologies. This "Great American Main Street" is known throughout the country for its exceptional shopping, dining, entertainment, events, arts, culture, and more. From places like 3Winks, KFlair Fashion, Biggby Ferndale, Twisted Tavern, The Emory, and Grasshopper Underground to the countless opportunities to enjoy art or attend an event, the community of Ferndale strives to supply its loyal citizens with all the best entertainment that Michigan has to offer. If you want to explore Ferndale in style or just make your ordinary day extraordinary, contact Rochester Limousine today for more information one which party bus rental is right for you. Find out for yourself today why Rochester Limousine was voted the best two years running by trusting our talented travel experts to handle all your most important transportation needs. Your lucky friends will be so glad that you did as we have the newest fleet in all of Metro Detroit.
If you are in the Ferndale area and are looking for a party bus rental Ferndale MI, please contact us today by calling 248.289.6665 or by filling out the form below: