Party Bus Rental Drayton Plains MI
Are you looking for a party bus rental Drayton Plains MI?
Whether you are looking for the biggest and the best luxury transportation in your area or you are just trying to find a way to transport a large group of people on a budget, all signs point to the party bus rentals at Rochester Limousine. You will not find a more reliable or comfortable means of travel anywhere in Metro Detroit than the party bus rentals in Michigan's newest and largest fleet of luxury vehicles at Rochester Limousine. With space for up to 45 people in our largest party bus rental and plenty of entertainment amenities on board, you can rest easy knowing that your guests are safe and occupied no matter how old they are. Throwing a party? Why not make it a party bus rental party? Dance the night away in your own private roadside lounge and be the VIP you were always meant to be. At Rochester Limousine, we have one job, and that's to make sure you have the time of your life in a remarkably clean and impressive party bus rental. Check one of our party bus rentals out for yourself today, and finally see what all the fuss is about.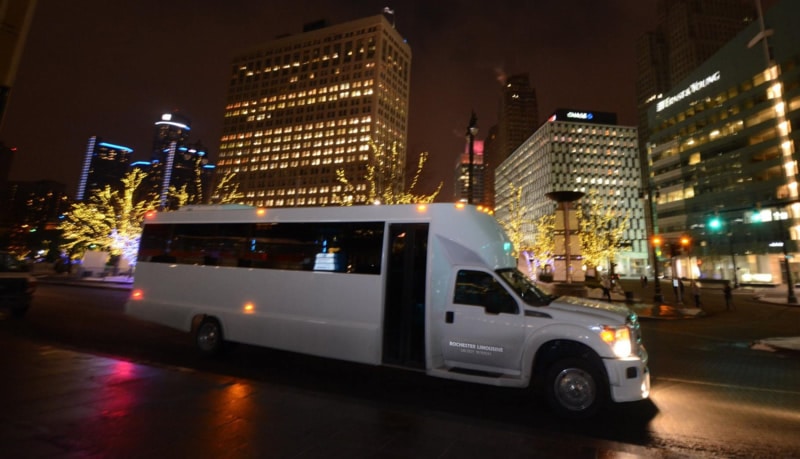 Party Bus Rental Drayton Plains MI
With more than 20 years of experience, Rochester Limousine is excited to help you enjoy "A Night To Remember" by offering you access to the most luxuriously affordable party bus rentals in Drayton Plains, MI. Drayton Plains is located by the western side of Loon Lake on Dixie Highway in Waterford Township. As an Oakland County community, Drayton Plains offers its residents the chance to enjoy an abundance of amazing shopping, entertainment, dining, and recreation in a county covering more than 900 square miles. Close to Detroit and several of the Great Lakes, Drayton Plains ensures that residents enjoy a balanced lifestyle with both modern and rural amenities. Historically, Drayton Plains is known as home to the first fish hatchery, the Drayton Plains Station, which opened up over by the Clinton River in 1903. The name later changed in 1934 to the Drayton Plains State Fish Hatchery, but after being named an official Michigan Historic Site in 1984, the location soon became the site of the Drayton Plains Nature Center. Today, visitors can explore the many expansive trails and catch a glimpse of various local habitats. Whether you're looking to trek the most rural communities in Michigan or take the cities by storm, Rochester Limousine can keep you entertained on the journey with a party bus rental chosen just for you.
If you are in the Drayton Plains area and are looking for a party bus rental Drayton Plains MI, please contact us today by calling 248.289.6665 or by filling out the form below: