Party Bus Rental Detroit Pistons
Are you looking for a party bus rental Detroit Pistons?
If you're a hardcore basketball fan in Detroit, then you must be a fan of the Pistons – which is great because so are we! In fact, at Rochester Limousine, part of the reason we offer party bus rentals so extraordinary, is so that Detroit Pistons fans, like us, can all take advantage of the games we love in style – and we're confident you'll love them just as much as we do. Our party bus rentals come in a variety of sizes to guarantee that you have exactly what you need to have a fantastic time with your friends and guests at any Detroit Pistons game you choose to attend. From seating for up to 45 people in our largest party bus rentals, to the massive assortment of luxury amenities onboard all our remarkable vehicles, there simply isn't a better means of game-day transportation than our party bus rentals at Rochester Limousine. So say goodbye to carpooling and public transportation, and let us help you pick out the perfect party bus rental to get you, and your fellow fans, to the next Detroit Pistons game safe and sound. Even if you have no clue yet what you need or what you're looking for, our immensely knowledgeable party bus rental professionals are sure to help you find an incredible luxury vehicle, guaranteed to impress all of your loved ones.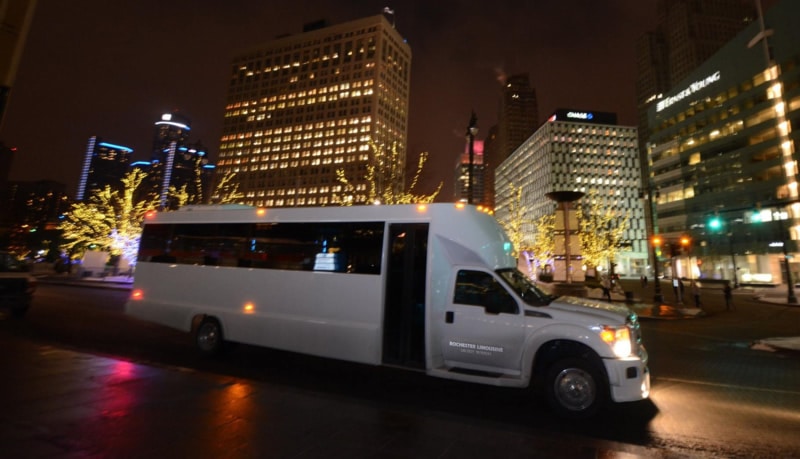 Party Bus Rental Detroit Pistons
For more than 20 years, our luxury transportation specialists at Rochester Limousine have helped countless people enjoy the night of their lives by supplying extraordinary party bus rentals to the next Detroit Pistons game, from the newest and hottest fleet in Metro Detroit! Whether your biggest concern in arriving at Little Caesars Area on time, or making sure you're able to pre-game and get pumped in time for the game to start, your fellow Detroit Pistons fans (that's us) have got you covered. So do yourself, and your friends a favor, and don't wait any longer to book one of our truly incredible, comprehensively equipped party bus rentals at Rochester Limousine. After all, if the Detroit Pistons are playing you deserve to live it up! If you have been searching for truly reliable, yet outstandingly impressive luxury transportation, make sure that you and your fellow Detroit Pistons fans make it to the next game on time and in style, look no further than our stunning fleet at Rochester Limousine.
If you are in the Metro Detroit area and are looking for a party bus rental Detroit Pistons, please contact us today by calling 248.289.6665 or by filling out the form below: