Party Bus Rental Davisburg MI
Are you looking for a party bus rental Davisburg MI?
Looking for a luxurious means of transportation for a large group of people you want to impress? At Rochester Limousine, we have everything you need from limos to party bus rentals, all of which are designed to make your event or special occasion even more magical. Entertainment on the road has never been easier thanks to our party bus rentals. Sit on the edge of your comfy seat while watching the game on the big screen or kick back to listen to some music and have a drink at the bar. However you like to spend your time on the road is up to you, our only job is to ensure your safety and satisfaction during the ride. Party bus rentals at Rochester Limousine are for any occasion and any budget, not just the wealthy or elite. Book a party bus rental for your child's prom night and forever be known as the coolest parent who ever lived, or reserve a more intimate party bus rental for a group date night and impress your significant other while simultaneously making your friends wish they were you. Our largest party bus rentals can hold up to 45 people, but all of them feature numerous amenities designed to guarantee you have the best time possible. See for yourself by trusting our experts to handle all the transportation for your next adventure.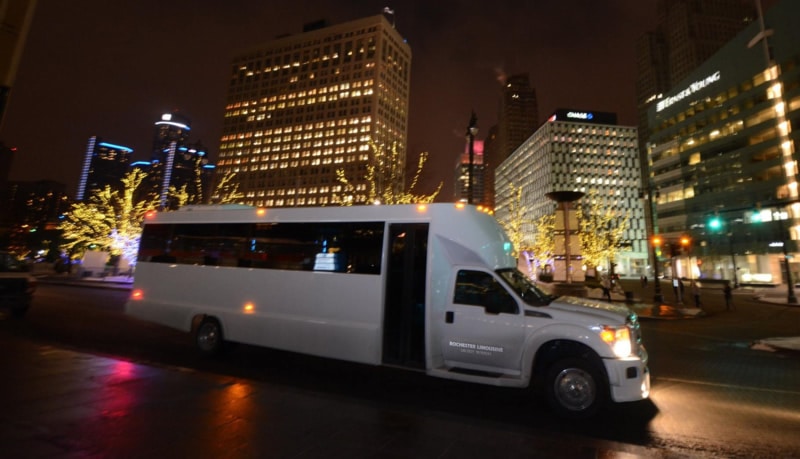 Party Bus Rental Davisburg MI
With more than 20 years of experience, Rochester Limousine is excited to help you enjoy "A Night To Remember" by offering you access to the most luxuriously affordable party bus rentals in Davisburg, MI. Not much can be said about the community of Davisburg, but that's mostly because anyone who knows the area well enough to talk about it is too busy out enjoying it every moment they can. In Oakland County, the Springfield Charter Township community of Davisburg is a recreational paradise for residents and lucky travelers alike. From fishing and swimming to watching wildlife thrive from the beach, Davisburg is full of natural beauty and picturesque scenery every day of the year. Clean parks and delicious restaurants cater to the residents of Davisburg, while the rest of the area is covered in prime residential neighborhoods. Local Davisburg favorites include the Springfield Inn Bar and Grill, the Four Seasons Inn, Old House Inn, and more; however, there are plenty of places to explore for yourself in Davisburg's surrounding area. If you are looking to explore within and beyond Davisburg, choose an elite party bus rental provider that always has your back. Choose Rochester Limousine.
If you are in the Davisburg area and are looking for a party bus rental Davisburg MI, please contact us today by calling 248.289.6665 or by filling out the form below: