Party Bus Rental Commerce MI
Are you looking for a party bus rental Commerce MI?
Rochester Limousine offers the newest fleet of party bus rentals and other luxury vehicles, in all of Metro Detroit, because we believe that Michiganders deserve the best. We believe it's important for party bus rentals to be affordable to people of all walks of life, so that everyone gets the chance to be treated like a VIP. Whether you are celebrating a birthday or special anniversary, or even your upcoming nuptials, Rochester Limousine can make your adventure that much more special with a party bus rental chosen just for you. When people think of buses they often have a set image in mind, but at Rochester Limousine we want to shift your perceptions so that you see our party bus rentals for what they really are – incredible personal lounges designed with your comfort and entertainment in mind. From televisions and stereo systems to private bars for adults, our party bus rentals are filled from top to bottom with reasons why you should take a chance and trust in us. There is no one more committed to ensuring your satisfaction when it comes to reliable transportation than Rochester Limousine, let us prove it to you today.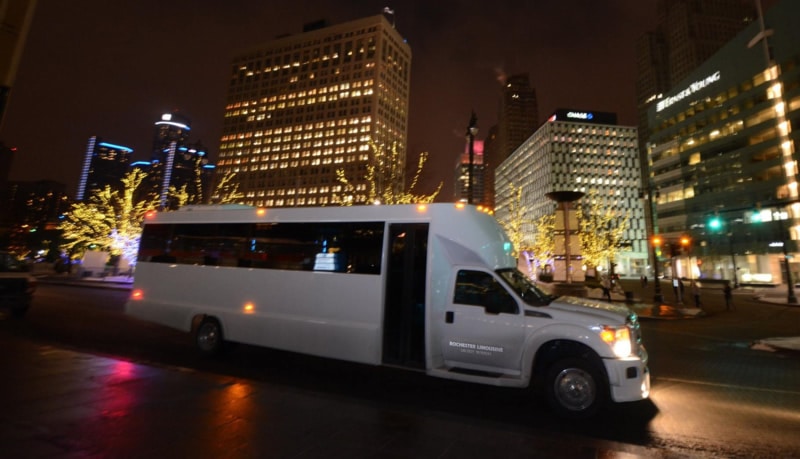 Party Bus Rental Commerce MI
With more than 20 years of experience, Rochester Limousine is excited to help you enjoy "A Night To Remember" by offering you access to the most luxuriously affordable party bus rentals in Commerce, MI. Commerce is a small community located in Commerce Township. It was plated in 1836 and sits today at Commerce and Sleeth Roads in Oakland County. Though this unincorporated community may not feature some of the more traditional metropolitan conveniences, Commerce still offers a number of beautiful lakefront homes, as well as access to some incredible natural areas including Proud Lake State Recreational Area, Memorial Park, Hickory Glen Park, countless inland lakes, and more to make up for it. For historical, educational, or just plain old fun entertainment, Commerce offers residents and tourists access to expansive farms, interesting bars, specialty museums, historic sites, movie theaters, and more. A few local Commerce favorites include Wonderland Lanes, Byers Homestead, and Uptown Bar & Grille. If you live in Commerce and want to get out of town for a little while to see something truly spectacular, let our experts at Rochester Limousine help you choose a party bus rental that is right for you. Impress your guests and get where you need to go with a party bus rental from Rochester Limousine.
If you are in the Commerce area and are looking for a party bus rental Commerce MI, please contact us today by calling 248.289.6665 or by filling out the form below: