Party Bus Rental Comerica Park
Are you looking for a party bus rental Comerica Park?
Attention all Detroit Tigers fans: Rochester Limousine is offering you the chance to take advantage of our insanely incredible party bus rentals for your next trip to Comerica Park! Yes, you read that right – remarkable party bus rentals all decked out with the newest and most advanced safety and entertainment technologies, all yours to show up and show off to all the other Tigers fans at Comerica Park as you please. In fact, whether you're merely trying to get a ride to and from the stadium, or you're hoping to hang out with and impress all the other tailgaters out front, we're confident we have a party bus rental perfect for you. From our smallest party bus rentals, equipped with flat screens and private bars, to our largest party bus rentals capable of accommodating up to 45 people and filled with enough space for an epic dance party, our majestic luxury vehicles at Rochester Limousine are designed to offer sheer extravagance to groups of all sizes. So what are you waiting for? Make your next Detroit Tigers game at Comerica Park one that you'll certainly never forget, by getting in touch with one of our kind transportation professionals at Rochester Limousine and reserving your party bus rental today.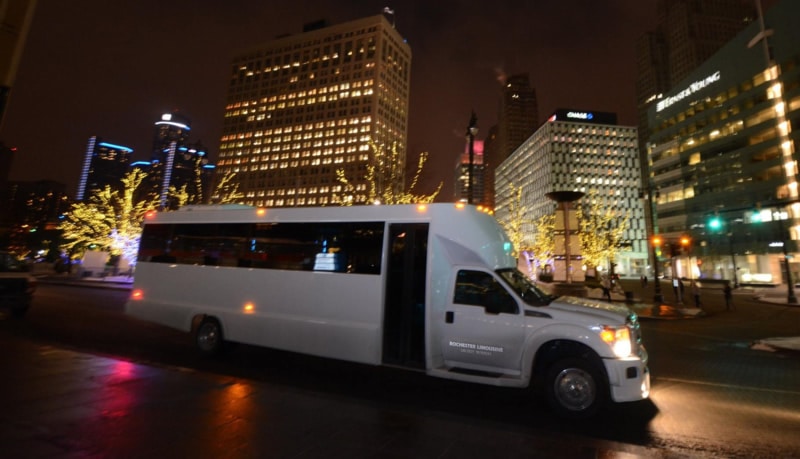 Party Bus Rental Comerica Park
For more than 20 years, our luxury transportation specialists at Rochester Limousine have helped countless people enjoy the time of their lives by supplying extraordinary party bus rentals to the next Detroit Tigers game at Comerica Park, from the newest and hottest fleet in Metro Detroit! Comerica Park has been an incredible part of Detroit's skyline for almost 20 years. From its first game back in 2000 when Brian Moehler helped the Tigers wipe the floor with the Seattle Mariners (5-2), to every game thereafter, catching a game at Comerica Park has simply become tradition for all the prideful Tigers fans in and beyond Detroit. Just because you're loyalty to the Tigers has you striving to make it to every home game at Comerica Park, doesn't mean every game day has to be the same. At Rochester Limousine, we can help you switch things up, and drum up any long-lost energy and excitement you might have let fade away over the years, by setting you up with one of our incredible party bus rentals. Just know that once we do, you'll never want to travel to Comerica Park by any other means ever again!
If you are in the Metro Detroit area and are looking for a party bus rental Comerica Park, please contact us today by calling 248.289.6665 or by filling out the form below: