Party Bus Rental Chene Park Amphitheatre
Are you looking for a party bus rental Chene Park Amphitheatre?
If you want to go to a concert with all your friends, then you'll likely choose to head over to the Chene Park Amphitheatre since it's "one of the top 100 concert venues in the world." So, it makes sense that if you want to reserve luxury transportation to get you all there safe and sound, you'll want to choose the party bus rental provider that's equally impressive and has been voted number one in Metro Detroit twice in a row– Rochester Limousine. In fact, whether this is your first show at Chene Park Amphitheatre, or you try to visit at least a few times every summer, we're confident that one of our party bus rentals is just the thing you need to make your next trip extra special. Filled with tons of incredible amenities and onboard entertainment, like professional grade sound systems, that let you jam to all your favorite tunes as loud and as much as you want, our party bus rentals can ensure that you, and all your invited guests enjoy a wonderful experience the whole night through. Plus, our largest party bus rentals hold up to 45 passengers, so you never have to leave a man (or woman) behind! If you are looking for a party bus rental that offers unparalleled reliability, comfort, safety, and style – reach out to one of our talented party bus rental experts at Rochester Limousine as soon as possible. We'll get you set up with something incredible for your trip to the Chene Park Amphitheatre in no time!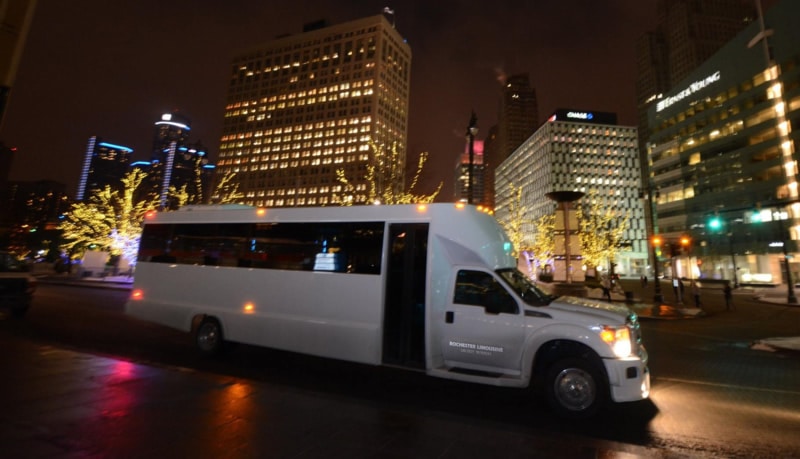 Party Bus Rental Chene Park Amphitheatre
For more than 20 years, our luxury transportation specialists at Rochester Limousine have helped countless people enjoy the night of their lives by supplying extraordinary party bus rentals to the infamous Chene Park Amphitheatre, from the newest and hottest fleet in Metro Detroit. The Chene Park Amphitheatre is considered both "the most exciting concert space in the heart of downtown Detroit" and "the epicenter of live entertainment in the summer." Thousands of people flock to the Chene Park Amphitheatre every year to enjoy fabulous, once-in-a-lifetime waterfront shows, and concerts, performed by all the most popular artists and musicians from around the world. However, if you really want to make your adventure to the Chene Park Amphitheatre worth it, you have to make sure you maintain your excitement and momentum before and after the show as well. Thankfully, this is where we thrive. By providing you and your esteemed guests with a majestic party bus rental for the whole night, we can help make sure that just because the concert hasn't started yet, or is over, doesn't mean your party has to stop. Reach out to one of our extraordinarily helpful professionals at Rochester Limousine, today, to learn more about how we can make your next outing to the Chene Park Amphitheatre one that you'll never forget!
If you are in the Metro Detroit area and are looking for a party bus rental Chene Park Amphitheatre, please contact us today by calling 248.289.6665 or by filling out the form below: