Party Bus Rental Center Line MI
Are you looking for a party bus rental Center Line MI?
If you are going somewhere special, or celebrating a special event and you really want to impress your guests, you need to reserve a party bus rental from the newest and hottest fleet in all of Metro Detroit – which of course can only be found at Rochester Limousine. In fact, our fleet of party bus rentals, and other luxury vehicles at Rochester Limousine was even voted the best of the best two years running for comprehensive excellence! From comfort and entertainment to reliability and safety, our party bus rentals are simply designed for facilitating the best possible traveling experience, and are well-equipped with everything you might need to entertain any crowd for any length of time. Our party bus rentals are perfect for groups of up to 45 people who are interested in exploring any and all of Metro Detroit's most popular destinations, so don't wait any longer to reserve yours! Don't know which type or size party bus rental best meets your needs? No worries! Our party bus rental professionals at Rochester Limousine have all the answers you seek.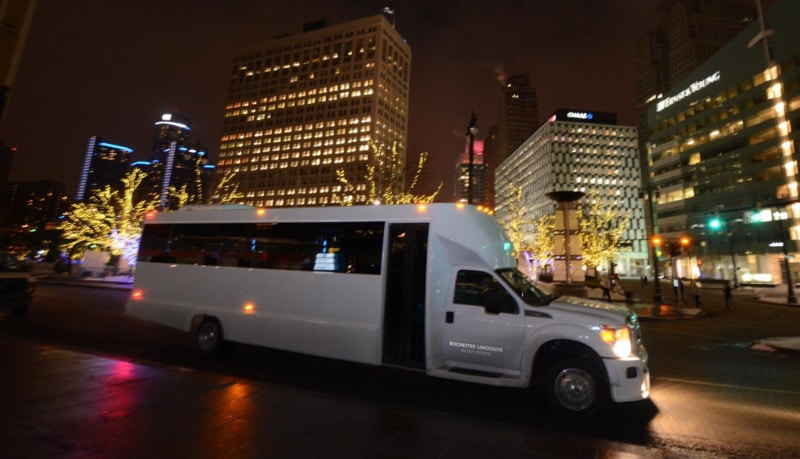 Party Bus Rental Center Line MI
With more than 20 years of experience, Rochester Limousine is excited to help you enjoy "A Night To Remember" by offering you access to the most luxuriously affordable party bus rentals in Center Line, MI. Surrounded entirely by Warren in Macomb County, the city of Center Line is home to more than 8,000 people as well as a few local treasures. Mostly a humble residential community, Center Line offers all the communal amenities a thriving little neighborhood needs. Despite its size, Center Line even has its own school system, Center Line Public Schools. Center Line also has two local historical sites, the St. Clement Catholic Church and St. Clement Catholic Cemetery, which serve as physical reminders of just how far this little community has come. As far as local entertainment, Center Line's annual Independence Festival is something no one ever wants to miss, as it offers enough music, food, fun, and fireworks to keep everyone filled with joy until the next year's events. If, however, you live in Center Line and you want to take advantage of entertainment that is a little bit more thrilling, or go somewhere just a little bit more exciting, our party bus rentals at Rochester Limousine are always ready to escort you. Choose the best luxury transportation you can for your next night out on the town – choose Rochester Limousine.
If you are in the Center Line area and are looking for a party bus rental Center Line MI, please contact us today by calling 248.289.6665 or by filling out the form below: