Party Bus Rental Broad Acres MI
Are you looking for a party bus rental Broad Acres MI?
Metro Detroit's newest and hottest fleet of party bus rentals can only be found at Rochester Limousine, and lucky for you we're currently accepting new passengers! Whether you are celebrating an extravagant birthday and hope to impress your many guests, or you are merely looking for spacious accommodations to a special event, our lavishly versatile party bus rentals are sure to have everything you need. In fact, our party bus rentals have all the latest and greatest amenities to ensure that you and all of your guests enjoy the safest, most comfortable, and most entertaining travel experience possible. If you are looking for reliability and incredible features, you simply won't find better luxury vehicles than our party bus rentals at Rochester Limousine. So what are you waiting for? Grab your family and your friends because our party bus rentals have enough room for all of you – or at least 45 people per vehicle. Not sure what you need yet? No problem! Our knowledgeable and friendly transportation professionals would be more than happy to find just the right party bus rental for you!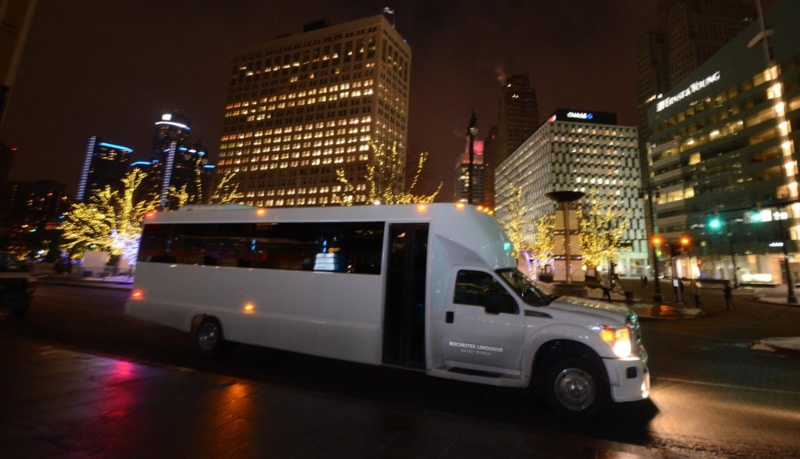 Party Bus Rental Broad Acres MI
With more than 20 years of experience, Rochester Limousine is excited to help you enjoy "A Night To Remember" by offering you access to the most luxuriously affordable party bus rentals in Broad Acres, MI. In Clinton Township, just north of St. Clair Shores and east of Fraser, the small residential community of Broad Acres can be found. Though Broad Acres may not be one of the most vibrant or well known communities, it does boast access to I-94 and the M-3, which means getting just about anywhere is a breeze for residents. To the east, Broad Acres is practically right up against the L'anse Creuse Bay, and all its associated parks and attractions, which means entertainment is always in season. Of course, Broad Acres is also very close to several other more local parks, like Normandy Park and Kyte Monroe Park. Other attractions near Broad Acres that can be easily accessed include Fraser Hockey Land, the Selinski-Green Farmhouse Museum, the Arsenal of Democracy Museum, and the Lake St. Clair Metropark to name a few of the closest. Nevertheless, no matter where you look, you simply won't find excessive excitement or thrills in Broad Acres, and that's okay seeing as how it is a peaceful and relaxing community on purpose. If, however, you are a resident of Broad Acres and you are searching for something a little bit more extraordinary, check out our incredible fleet of party bus rentals at Rochester Limousine today. You are sure to be impressed!
If you are in the Broad Acres area and are looking for a party bus rental Broad Acres MI, please contact us today by calling 248.289.6665 or by filling out the form below: