Party Bus Rental Beverly Hills MI
Are you looking for a party bus rental Beverly Hills MI?
Do you need a party bus rental for your special school dance, birthday, or other meaningful life moments? If so, you're in luck! Rochester Limousine has the newest and number one best selection of party bus rentals in all of Metro Detroit. Not only do our party bus rentals at Rochester Limousine offer exceptional comfort, entertainment, and safety; but they are also the most fun way to get around that you will ever find. Why would you ever want to go anywhere else to find your ideal party bus rental when Rochester Limousine is obviously the best choice for everyone? At Rochester Limousine, we provide party bus rentals that can hold up to 45 people and offer incredibly amenities like full-service bars, flat screen televisions, hardwood dance floors, professional sound systems, and more. If you're looking for top-of-the-line transportation to get you and a group of guests somewhere important, trust the party bus rentals at Rochester Limousine.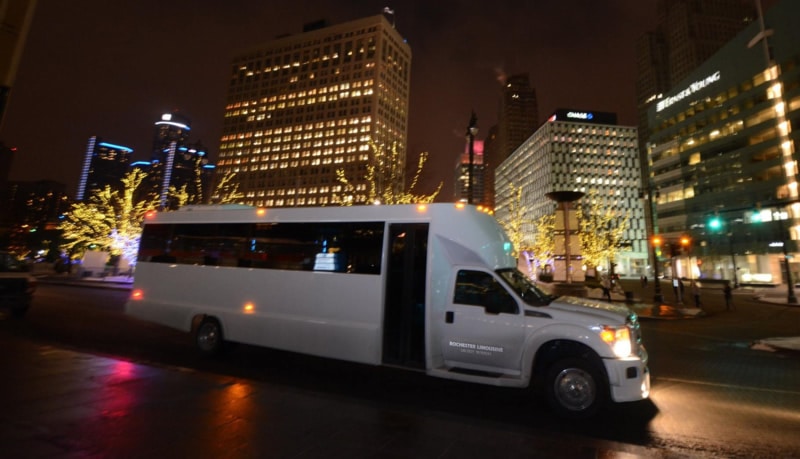 Party Bus Rental Beverly Hills MI
With more than 20 years of experience, Rochester Limousine is excited to help you enjoy "A Night To Remember" by offering you access to the most luxuriously affordable party bus rentals in Beverly Hills, MI. In Oakland County, the tiny village of Beverly Hills offers exceptional accommodations and resources for an astonishing 10,000 residents. The peaceful and picturesque village of Beverly Hills is primarily a bedroom community, but is recognized at the state's most populated "home-rule village." The vibrant village of Beverly Hills boasts a remarkably stable economy, with over 100 unique businesses there to meet the needs of any resident or visitor. With nationally renowned education, including a great selection of public and private schools, Beverly Hills is able to ensure that even its youngest citizens are afforded every opportunity for growth and success. An abundance of natural recreation including parks, like Beverly Park and Riverside Park, allow residents of Beverly Hills to enjoy the fresh air and relaxation they deserve. Beverly Hills' incredible restaurants including the Beverly Hills Grill, Brady's Tavern, and more, offer residents bold flavors and family-friendly dining throughout the year. No matter what you're looking for in Beverly Hills, you're sure to find it. Just like you're bound to find exceptional party bus rentals when you come looking for luxury transportation at Rochester Limousine. Only Rochester Limousine gives you the chance to truly elevate your evening with super clean, cozy, and safe party bus rentals. Choose Rochester Limousine now and ask our party bus rental transportation experts how you can reserve your party bus rental today.
If you are in the Beverly Hills area and are looking for a party bus rental Beverly Hills MI, please contact us today by calling 248.289.6665 or by filling out the form below: