Party Bus Rental Armada MI
Are you looking for a party bus rental Armada MI?
If you want to celebrate your most special moments in style, you need to reserve a party bus rental from the hottest and newest fleet in in all of Metro Detroit – available only at Rochester Limousine. From bachelorette parties to shows, games, concerts, and other epic adventures, party bus rentals are the only vehicles specifically designed for comfort, entertainment, and versatility; and ours are the newest and state of the art. Capable of accommodating groups of up to 45 people, and equipped with all the latest features and amenities to ensure your experience is a safe and positive one, including televisions, bars, sound systems, and more, our party bus rentals are well-stocked and ready for anything. Surprising something for their big birthday? Climb aboard! Prom season seems like it's always around the corner, get a head start on ensuring your teen has a safe way to and from their big night by simply getting information about why our party bus rentals are perfect for you. If you hope to impress your guests by enhancing their experience with a party bus rental, we encourage you to choose your luxury transportation from the company that was voted number one in Metro Detroit two years in a row. Choose your party bus rentals from Rochester Limousine.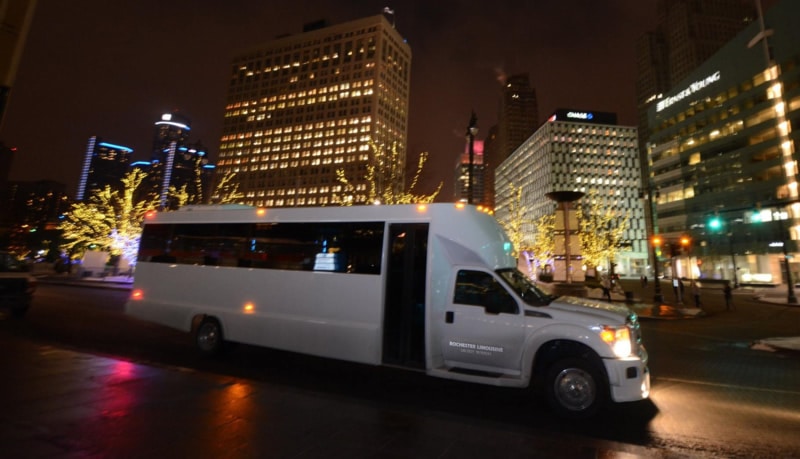 Party Bus Rental Armada MI
With more than 20 years of experience, Rochester Limousine is excited to help you enjoy "A Night To Remember" by offering you access to the most luxuriously affordable party bus rentals in Armada, MI. Practically hidden up on the northern border of Macomb County in Armada Township, the humble village of Armada offers impeccable housing and diverse amenities for fewer than 2,000 residents. Armada is also located ideally on the Macomb Orchard Trail, meaning it remains a popular recreational destination as well throughout the year to proud locals and nature enthusiasts from across the area. After a long day of hiking, Blakes Hard Cider and the Kozy Korner Saloon are two of Armada's best spots to find great drinks and other delectable items. However, if you really want to get a feel for Armada, you have to attend the famous annual fair. With food, fun, and endless games, Armada's annual fair succeeds in bringing people closer together every time it comes to town. From the charming local Flea Market to the numerous rustic farms, Armada is simply a beautifully simple place to be lucky enough to call home. Of course, if you ever feel like getting out of tow, do it in style by booking a party bus rental from Rochester Limousine.
If you are in the Armada area and are looking for a party bus rental Armada MI, please contact us today by calling 248.289.6665 or by filling out the form below: