Party Bus Rental Anchor Bay Shores MI
Are you looking for a party bus rental Anchor Bay Shores MI?
Whether you're young and looking to party in the most lavish vehicle possible for your big day, or you're getting up in years and merely want to take advantage of superior comfort on your way to a special event, our party bus rentals at Rochester Limousine have you covered. Part of the newest and hottest fleet in Metro Detroit, our party bus rentals are designed from top to bottom for pure excellence, to accommodate any passenger's needs. From superior road safety to endless entertainment, our party bus rentals offer all the latest features and technologies to ensure you arrive at your destination not only safe and sound, but also in a better mood than you were before you left. With space for as many as 45 people in our largest party bus rentals, you can even bring all your closest friends and family members with you to join in on and share all your most memorable moments. When it comes to luxury transportation, there simply are no better party bus rentals than the ones at Rochester Limousine. Choose your party bus rental from the fleet that was voted the best in Metro Detroit two years in a row. Choose Rochester Limousine.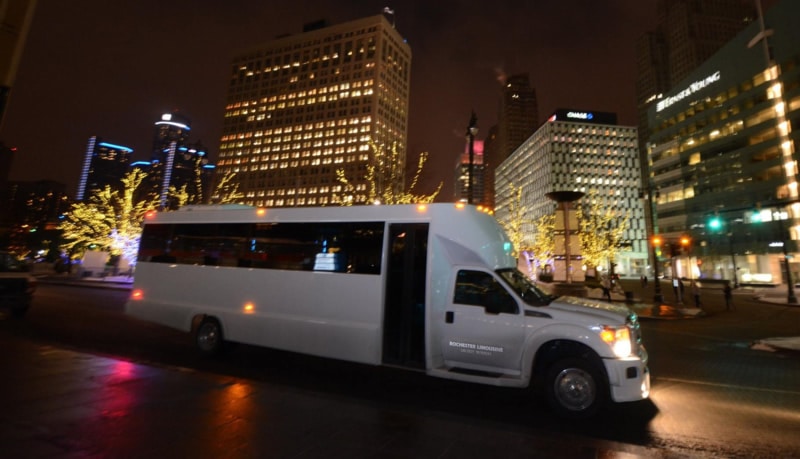 Party Bus Rental Anchor Bay Shores MI
With more than 20 years of experience, Rochester Limousine is excited to help you enjoy "A Night To Remember" by offering you access to the most luxuriously affordable party bus rentals in Anchor Bay Shores, MI. Although Anchor Bay Shores is just one of many unincorporated villages and communities in Macomb County's Chesterfield Township, it remains one of the most popular, thanks to its location between the lake and several major highways. In fact, by being right on the shores of Anchor Bay along Lake St. Clair, the appropriately named community of Anchor Bay Shores is able to boast both incredible waterfront views and proximity to downtown Detroit, making it an especially great area to live, work, and play if you crave a good balance between city and country living. Though many people living in Anchor Bay Shores might agree that boating and other aquatic recreation are greatest forms of entertainment to be had nearby, the truth of the matter is that Anchor Bay Shores has something for everyone. Whether you're looking for an amazing restaurant or a particularly enjoyable landlocked location, Anchor Bay Shores is sure to have what you're looking for. However, if you live in Anchor Bay Shores and what you're looking for is unbeatable luxury transportation, you have to trust the experts at Rochester Limousine. Only Rochester Limousine offers top-of-the-line party bus rentals that are guaranteed to impress!
If you are in the Anchor Bay Shores area and are looking for a party bus rental Anchor Bay Shores MI, please contact us today by calling 248.289.6665 or by filling out the form below: