Limousine Service White Lake MI
Are you looking for limousine service White Lake MI?
Regardless of where you need to go, our limousine service at Rochester Limousine has just what you need to ensure your journey is as enjoyable as it is safe. After all, we offer the best and most popular limousine service in the entirety of Metro Detroit – as voted by the locals for two consecutive years! Plus, our limousine service's fleet is full of the newest and hottest luxury vehicles in the city, which means we have all the latest and greatest features to guarantee your protection and entertainment. From our overall road safety and reliability, to our limousine service's abundance of amenities and available entertainment, there's no way we will fall short of completely exceeding your expectations. It doesn't matter if you're hosting the best birthday party or bar mitzvah your neighborhood has ever seen, or you're headed somewhere truly special outside White Lake, our limousine service will always have your back. So what do you say? Reserve our limousine service today and choose between any of our 9-12 seat Chrysler 300 limos, or our largest 20-seater Suburban Stretch limos so our professionals at Rochester Limousine can help you get your party started!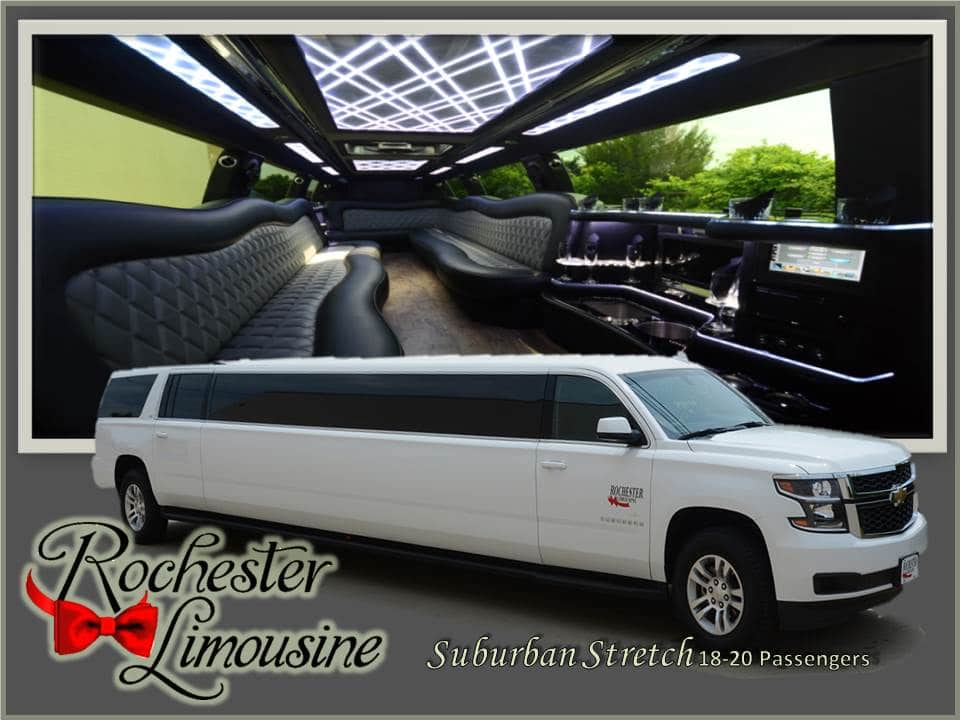 Limousine Service White Lake MI
With more than 20 years of experience, Rochester Limousine is excited to help you enjoy "A Night To Remember" by offering you access to the most luxurious limousine services in White Lake, MI. In Oakland County's Charter Township of White Lake, residents have access to so much. For starters, the area is broken into three unincorporated communities, East White Lake, Oxbow, and White Lake, with each neighborhood offering more beauty and opportunity than the last. Meanwhile, when it comes to entertainment and recreation, residents have access to multiple stunning inland lakes, including White Lake, the Indian Springs Metro Park, the Alpine Valley Ski Area, several golf courses, and more in the immediate vicinity. The only thing residents of White Lake ever seem to be missing is a little modern glamor. There are no gigantic stadiums or lavish concert halls, posh live theatres or grand event venues, there is only gorgeous open sky and impeccable scenery. However, if you're a resident of White Lake and you're looking for a bit of both in your life, the best thing you can do is let our limousine service specialists at Rochester Limousine help you satisfy your urge for adventure. Simply focus on having a good time with the people you care most about, and we'll worry about everything else!
If you are in the White Lake area and are looking for limousine service White Lake MI, please contact us today by calling 248.289.6665 or by filling out the form below: