Limousine Service Troy MI
Are you looking for limousine service Troy MI?
For well over 20 years, our award-winning limousine service at Rochester Limousine has been successfully changing the way everyday people throughout Troy and the rest of Metro Detroit view transportation, and today it's your turn. Whether you're planning an incredibly important event and need to make sure your group arrives together and on time, or your and your friends are simply looking to get a little wild in the city without consequence, our limousine service has you covered on all fronts. In fact, every single one of the magnificent luxury vehicles in our limousine service's fleet is designed for optimal comfort, safety, reliability, and entertainment. Our 9 and 12-seater Chrysler 300 limos, for example, though small, boast a vast assortment of incredible amenities that are bound to impress even the most fastidious critics. But of course, our personal fleet favorites are our massive 20-seater Suburban Stretch limos – equipped with multiple bar areas, incredibly spacious wrap around seating, controlled lighting, numerous built-in entertainment systems, and more! All in all, there really isn't anything our limousine service can't offer. But what do you expect? Our limousine service at Rochester Limousine has been voted Metro Detroit's best numerous times, and we're not about to drop the ball now. So go ahead and put your trust – and the fate of your next adventure in or outside of Troy – in the hands of our immensely capable and compassionate limousine service professionals today. We're certain you won't regret it!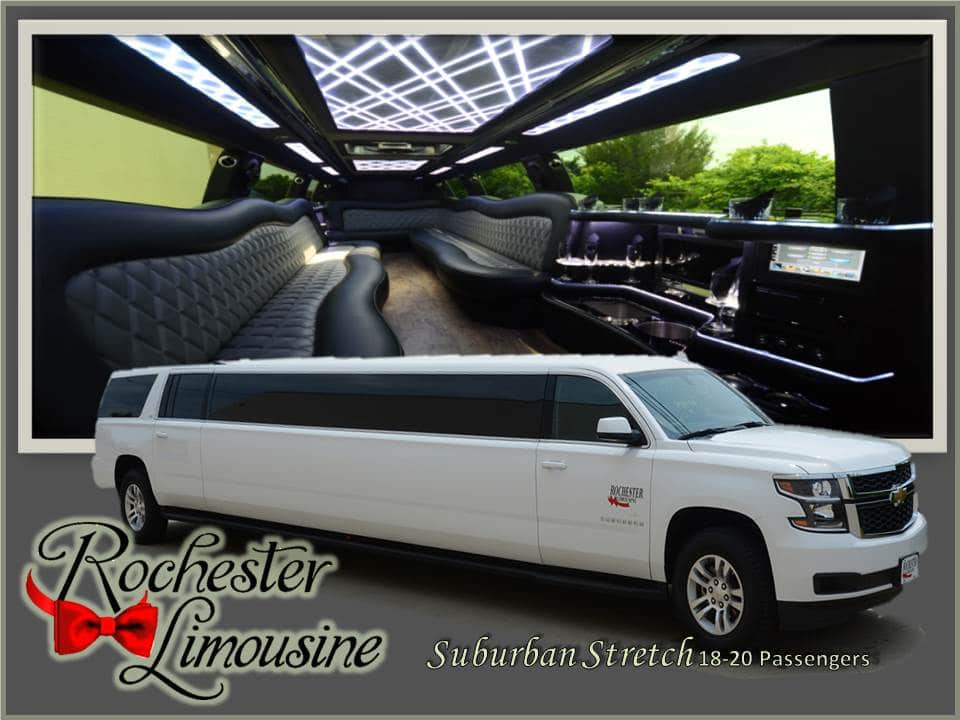 Limousine Service Troy MI
Rochester Limousine is excited to help you enjoy "A Night To Remember" by offering you access to the most luxurious limousine service anywhere in or beyond Troy, MI. Aside from being a profusely successful business area, Oakland County's massive city of Troy has so much to offer. Troy's one of the largest cities in the entire state, a renowned shopping destination, officially one of the safest and most affordable cities in the entire country, and was even ranked as one of the "Best Places to Live" in the U.S. by CNN Money. However, with Troy offering such nonstop excellence around every turn, if you want to make your special moments and excursions truly one-of-a-kind, you need to go all out. Thankfully, at Rochester Limousine, we can help with that. Our limousine service can get you and all your guests anywhere you need to go, from local pubs and event centers in Troy, to stadiums and venues outside the city. So don't be shy. Choose limousine service transportation that truly does live up to Troy's standards – choose Rochester Limousine.
If you are in the Troy area and are looking for limousine service Troy MI, please contact us today by calling 248.289.6665 or by filling out the form below: