Limousine Service St Clair Shores MI
Are you looking for limousine service St Clair Shores MI?
In a beautiful coastal city, like St. Clair Shores, sometimes it can be fun to step away from the warm sun and shimmering lake and find something a little bit more upbeat to do to offset all that relaxation, such as going to a concert or spending your whole day in the city. Of course, if you're going so far as to pamper yourself, why not go all the way and get a limousine service to chauffeur you and your friends around? Our limousine service at Rochester Limousine, for example, is the ultimate choice. You see, our exclusive, award-winning limousine service is not just for special occasions, like weddings or proms; our vehicles are designed to enhance any and every experience with their exceptional amenities and versatility. Take our Suburban Stretch limos, they're our largest luxury limousines built to effectually accommodate and entertain as many as 20 passengers at a time with integrated entertainment systems, controlled lighting, onboard bar areas, and more. Our Chrysler 300 model limos, which are equally impressive as far as amenities are concerned, are perfect for more intimate events thanks to their more cozy accommodations for groups of only 9 to 12 guests. So really, no matter what you're looking for, you can trust our talented limousine service specialists to always have something perfect just for you. And why wouldn't we? Rochester Limousine has been voted the Metro Detroit's best limousine service several times, and we have been helping people in and out of St. Clair Shores fall in love with said limousine service for more than 20 years!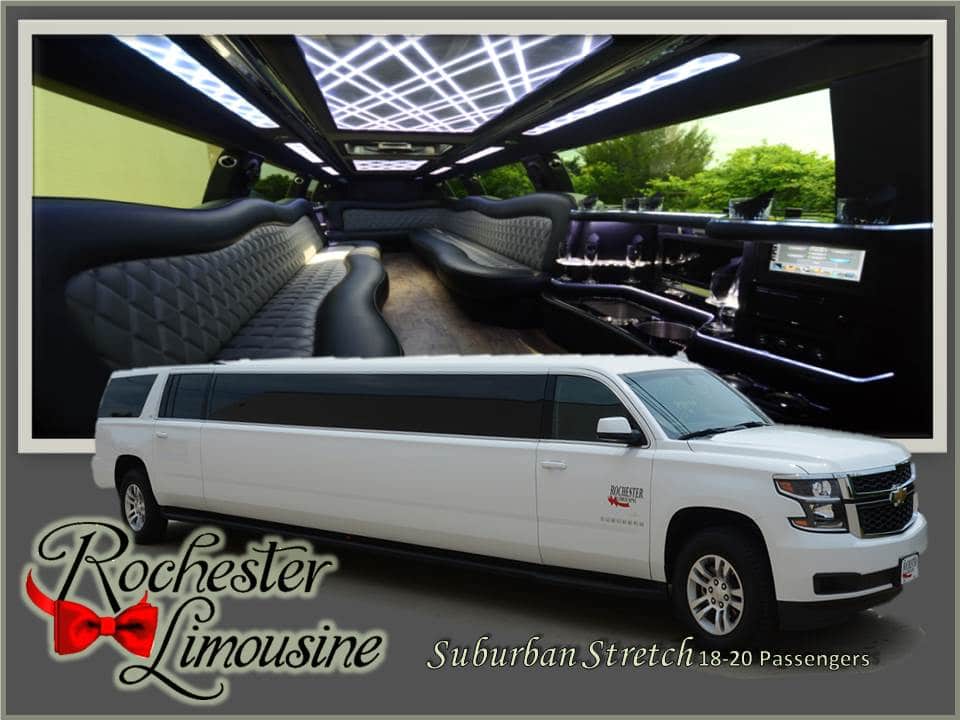 Limousine Service St Clair Shores MI
Rochester Limousine is excited to help you enjoy "A Night To Remember" by offering you access to the most luxurious limousine service anywhere in or beyond St. Clair Shores, MI. It's hard to outshine a city as beautiful and impressive as Macomb County's St. Clair Shores. Residents have Lake St. Clair's stunning coastline for recreation, several museums and taverns nearby to enjoy, as well as access to several major highways for getting out of St. Clair Shores anytime you please. But, of course, that doesn't mean we're not going to at least try. We want you to have the opportunity to love exploring beyond St. Clair Shores, which means we need to ensure our luxury vehicles are lavish enough to lure you away from the comfort of your own home. All we ask is that if you plan on getting out of St. Clair Shores sometime soon, or even if you're planning on going somewhere special locally, you give our professionals at Rochester Limousine the chance to make your journey exponentially better. After all, St. Clair Shores may be an extraordinarily inspiring place to live, but we're pretty confident once you try our limousine service you will be questioning whether you ever want to go back home!
If you are in the St Clair Shores area and are looking for limousine service St Clair Shores MI, please contact us today by calling 248.289.6665 or by filling out the form below: