Limousine Service Farmington MI
Are you looking for limousine service Farmington MI?
If you're looking for a high-quality limousine service for any sort of upcoming occasion in your life, in or out of Farmington, you've come to the right place. Rochester Limousine is Metro Detroit's number one limousine service, voted as such by the people. We boast the newest and hottest fleet in the entire area, as well as an impressive team of seasoned limousine service professionals who are ready to be at your beck and call and ensure your satisfaction. Best of all, our diverse fleet offers some of the greatest limousine models in the industry. Aside from our breathtakingly classic 9 and 12-seat Chrysler 300 limos, our 20-seat Suburban Stretch limos are our pride and joy. All of our incredible luxury vehicles are spacious, stylish, reliable, safe, and filled with all the amenities your guests could ever dream of – including private bar areas, professional lighting displays, state-of-the-art entertainment systems, and so much more. Of course, what else would you expect? We've been in this business helping people change their lives by facilitating once-in-a-lifetime experiences with our superior limousine service for more than two decades. All anyone ever needs to do is reach out and we'll be there. It's one of the reasons our limousine service is the best! Whether you're headed to a wedding in Farmington, or you'd rather skip town and discover an adventure somewhere else, our remarkable limousine service at Rochester Limousine is always only a phone call away.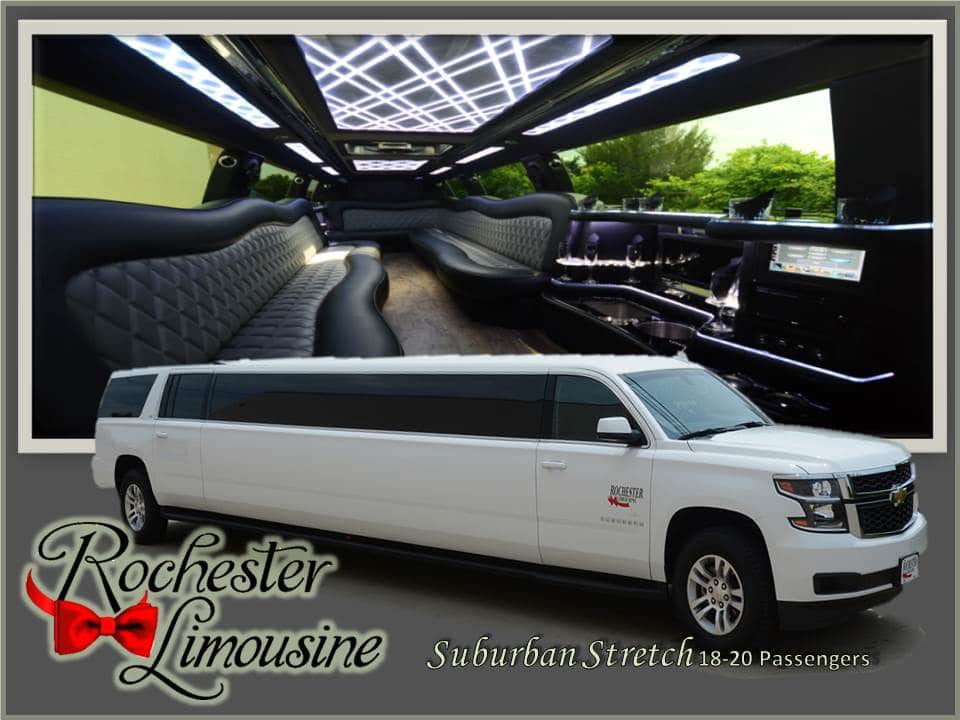 Limousine Service Farmington MI
With more than 20 years of experience, Rochester Limousine is excited to help you enjoy "A Night To Remember" by offering you access to the most luxurious limousine services in Farmington, MI. Much like its close neighbor, Farmington Hills, Oakland County's city of Farmington is renowned for being one of the best places in the area to live. In fact, in recent years, Farmington has even put a significant amount of money into completely remodeling and revamping the city's downtown district to improve its rank and increase tourism. However, even with all of the developments Farmington has committed to over the years, the list of local attractions and impressive upscale establishments still leaves a little something to be desired. Thankfully, anytime you ever feel like doing something a little more outside the box, you can just simply reach out to our incredible limousine service transportation professionals at Rochester Limousine. After all, no matter what type of adventure you're hoping to have once you get out of Farmington, an exceptional limousine service, like ours, will only make it better!
If you are in the Farmington area and are looking for limousine service Farmington MI, please contact us today by calling 248.289.6665 or by filling out the form below: