Limousine Service Commerce MI
Are you looking for limousine service Commerce MI?
Whether you're trying to relax and enjoy an elegant and romantic evening out with someone you love, or you just want to party with your friends, our experts at Rochester Limousine can help you plan a night you'll never forget. With our limousine service, you and your exclusive guests can enjoy a vast assortment of entertainment and amenities, plus onboard bar areas, from the road as you venture to any and all exciting destinations outside Commerce. And the best part is our limousine service offers several different vehicles for you to choose from! Pick our 20-seater Suburban Stretch limo model for its spacious accommodations and surplus of entertaining features, or one of our 9 or 12 seat Chrysler 300 limo models for a traditional experience that still boasts a rejuvenated appeal. Either way, we're certain you'll be glad you put your trust in our truly unmatched limousine service here at Rochester Limousine. After all, our limousine service is the best! So much so, in fact, that ours has already been voted Metro Detroit's number one limousine service twice so far. Our magnificent fleet is safe, reliable, and ready to take you on your next adventure beyond Commerce. So do yourself a favor and get in touch with us at Rochester Limousine now to reserve our fantastic limousine service for yourself before time runs out!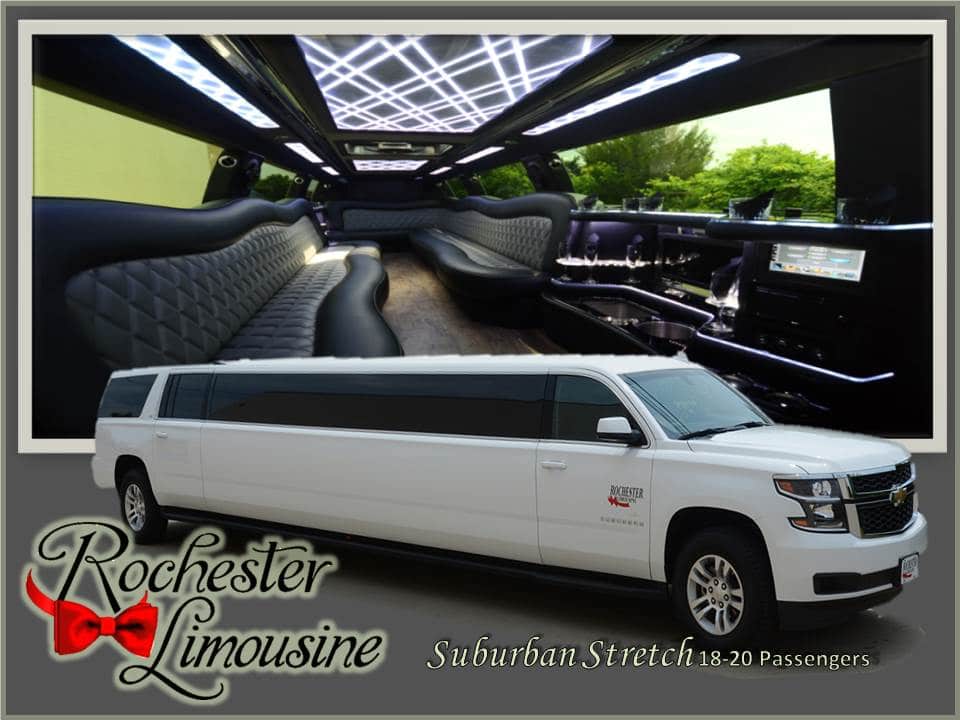 Limousine Service Commerce MI
With more than 20 years of experience, Rochester Limousine is excited to help you enjoy "A Night To Remember" by offering you access to the most luxurious limousine services in Commerce, MI. At Commerce Road and Sleeth Road in Oakland County's Commerce Township, the tiny, aptly named, unincorporated community of Commerce resides. It's not a very large community, nor is it one that's full of beautiful theaters or awe-inspiring concert venues. However, what Commerce does have in abundance is tranquility. For residents seeking adventure this can pose quite the problem. Fortunately, Rochester Limousine has the perfect solution. No matter where you want to go, or who you plan to invite to tag along, our stunning limousine service is always here for you. Our tremendously friendly drivers will pick you up wherever in Commerce you choose and have you back home safe and sound before you know it. All you have to do is reach out to us at Rochester Limousine today and choose which of our amazing limousines is right for you. Just make sure you hurry before they're all booked!
If you are in the Commerce area and are looking for limousine service Commerce MI, please contact us today by calling 248.289.6665 or by filling out the form below: