Limousine Service Wixom MI
Are you looking for limousine service Wixom MI?
Want to know what traveling like a real VIP feels like? Why not get in touch with our outstanding limousine service professionals at Rochester Limousine today and find out. Whether you're attending a sophisticated upscale event, or you've got a family party to attend, our limousine service professionals are guaranteed to come up with a chauffeur option that best suits your needs as well as goes above and beyond to satisfy your inner desire for adventure. Our 12-passenger Chrysler 300 limo, for instance, is currently one of our limousine service's most elegant and well-equipped vehicles, with upgraded sound systems, strobe/laser lights, fiber optics, a hands-free intercom, and more. Of course, if you're going to go big, you might as well go all the way and take advantage of our luxurious Suburban Stretch limo. It truly is our limousine service's most extraordinary, with three different built-in televisions, controlled lighting displays, stunning wrap around seating for 20, wood flooring, two distinct bar areas, and more. All you have to do is figure out where you're going, who you have from Wixom coming along, and what kind of amenities you want entertaining you all along the way; our limousine service will take care of everything else. So what are you waiting for? Reserve our limousine service at Rochester Limousine today!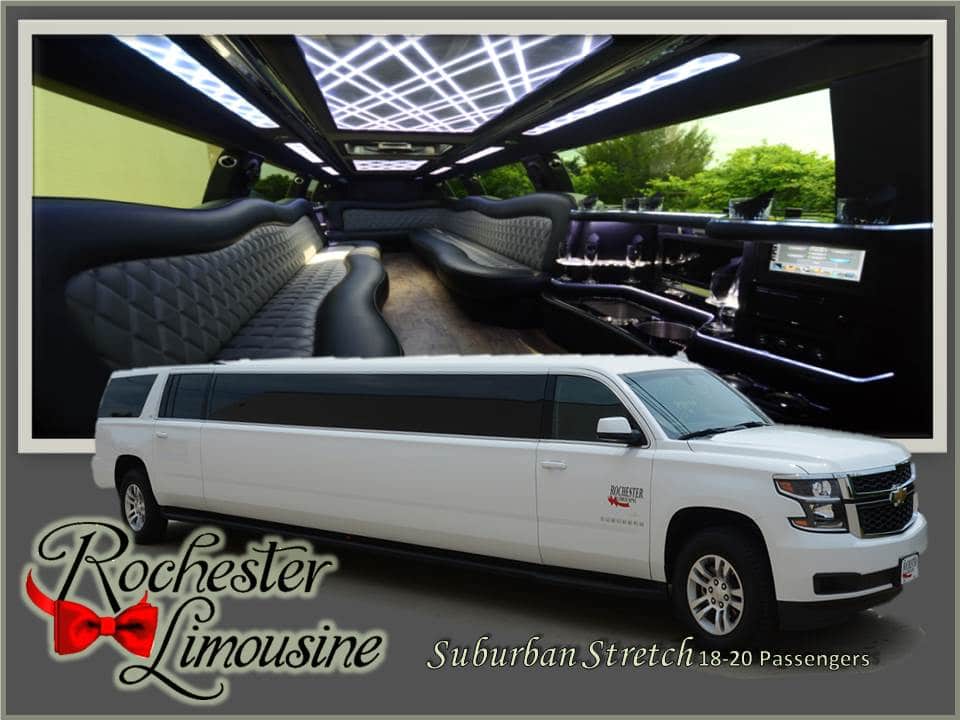 Limousine Service Wixom MI
With more than 20 years of experience, Rochester Limousine is excited to help you enjoy "A Night To Remember" by offering you access to the most luxurious limousine services in Wixom, MI. Oakland County's city of Wixom has always been a proud and successful industrial hub, serving as home to numerous manufacturing and production businesses throughout the years. The most notable of which, the Wixom Assembly Plant, was even the driving force in the village of Wixom's original incorporation. Of course, today, Wixom is just a charming residential community located on the Pontiac Trail and surrounded by ample recreation. That's why, anytime you're interested in going out and doing something a little more sophisticated, like taking someone special in your life to dinner and a show in the city, or hosting some sort of fundraising event, we encourage you to give our limousine service at Rochester Limousine the chance show you and your guests from Wixom what exceptional really looks like. After all, if you want to show off your class and confidence, what better way to do so than to show up ready to impress in a limo fit for royalty – and you won't find any anywhere near Wixom better than ours!
If you are in the Wixom area and are looking for limousine service Wixom MI, please contact us today by calling 248.289.6665 or by filling out the form below: